We'll continue our Golden Days in the southern region of Basilicata.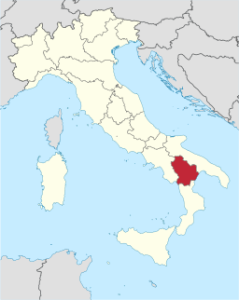 My first visit to this beautiful under-touristed region was random. I had plans to visit my friend Tania of In Italy Tours in Calabria, and found I had a few days gap in my traveling schedule. Sitting with my laptop in Rome, musing over the train route,  inspiration came: Go To Your Pappa Land! My grandfather was born in Basilicata, on a farm in Vaglio, near Potenza, then worked in a pasticceria in Naples before boarding a ship for the American Dream. I have letters he wrote when he'd go back to visit, and a necklace from his sister, my great Aunt Teresa…
I needed a place to relax, and wanted to be near a beach, so Maratea, Basilicata's coastal town beckoned. I booked a room at B&B Laino ,set off on the train for Golden Days, and was kindly met at the station by Giovanni, who drove me through town to the enchanting spot…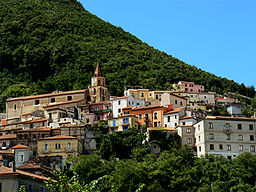 I loved breakfasts there under the blue umbrellas, looking out to the sea…
Overlooking the village, set on a hilltop is a stunning marble statue of Christ, ala Rio de Janeiro…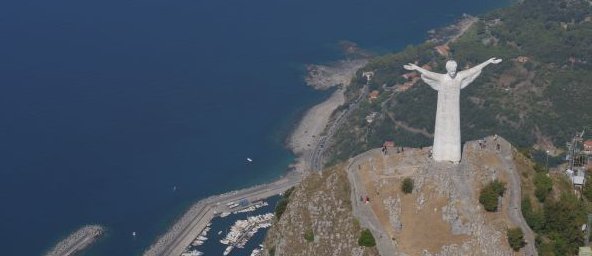 I strolled along the beach in the morning…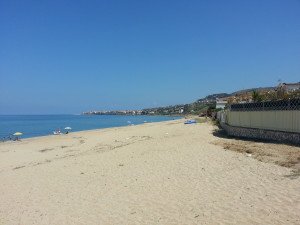 And then followed a winding road and zig-zag paths for a walk–the village is oddly spread out, next time I'll rent a scooter…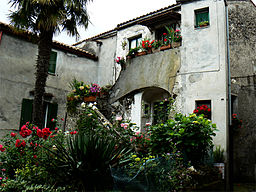 After an hour, I landed in Maratea's centro storico, an enchanting place, centered by the Fountain of Sirens…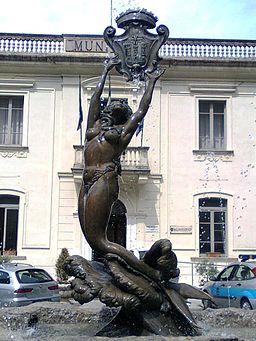 I had pizza at Bussola, (Via Conte Stefano Rivetti 09 738 6863), which also serves great antipasti.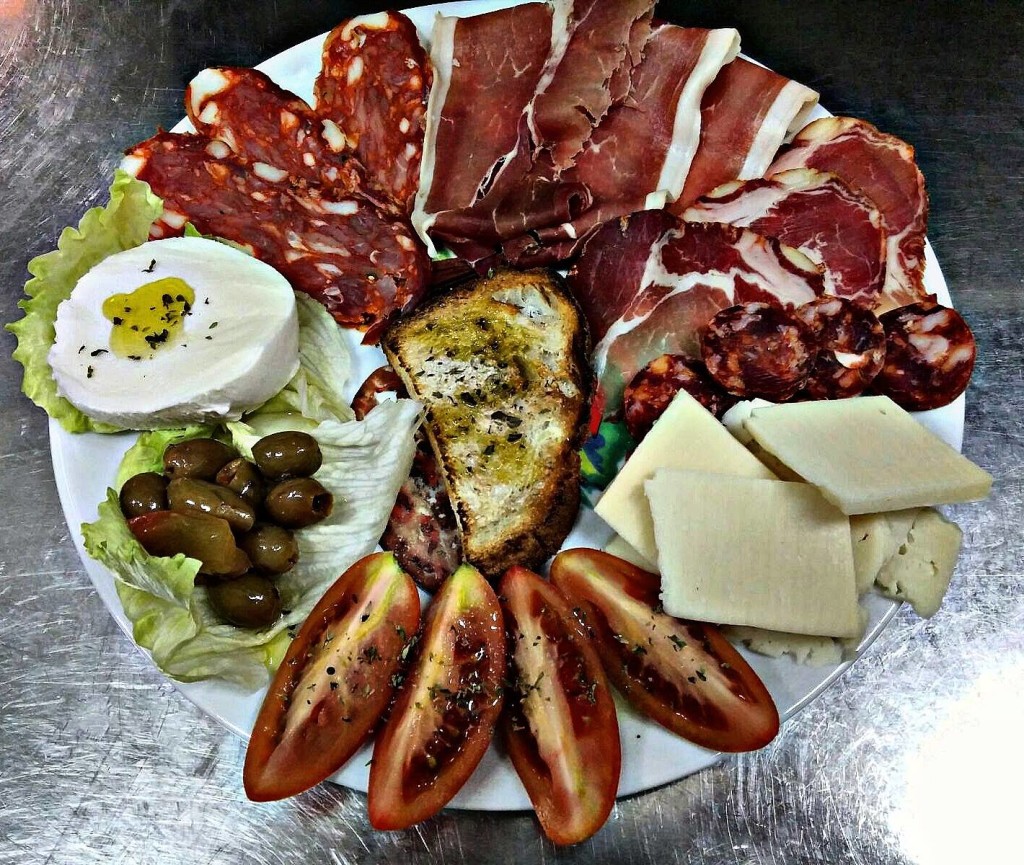 But the best meal of all, right in the central piazza, was at Marianna Pezzulo's Antichi Sapori, (Via Alessandro Mandarini 29, 33 917 94102), where I met the charming chef in charge…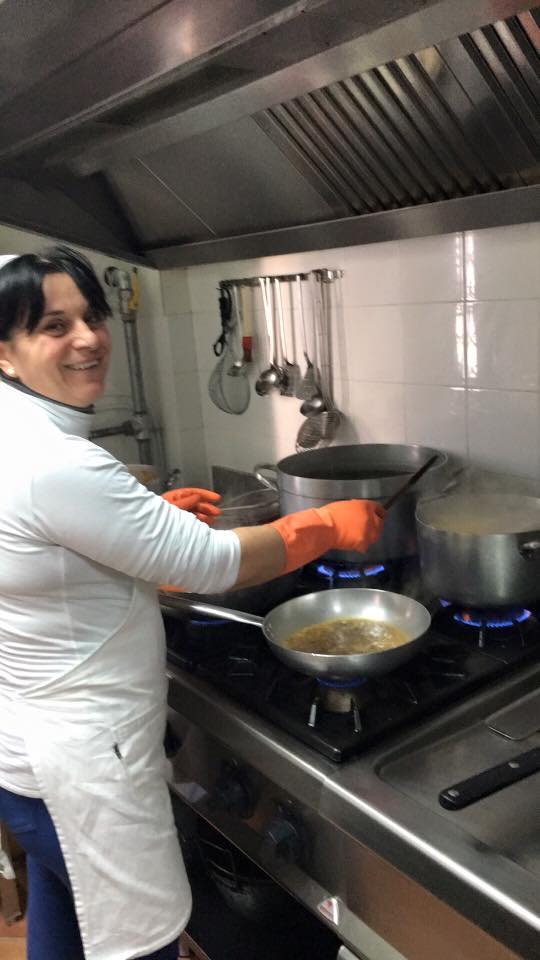 Felt at home with faces at neighboring tables,  matches with kids I went to grade school with in New Jersey…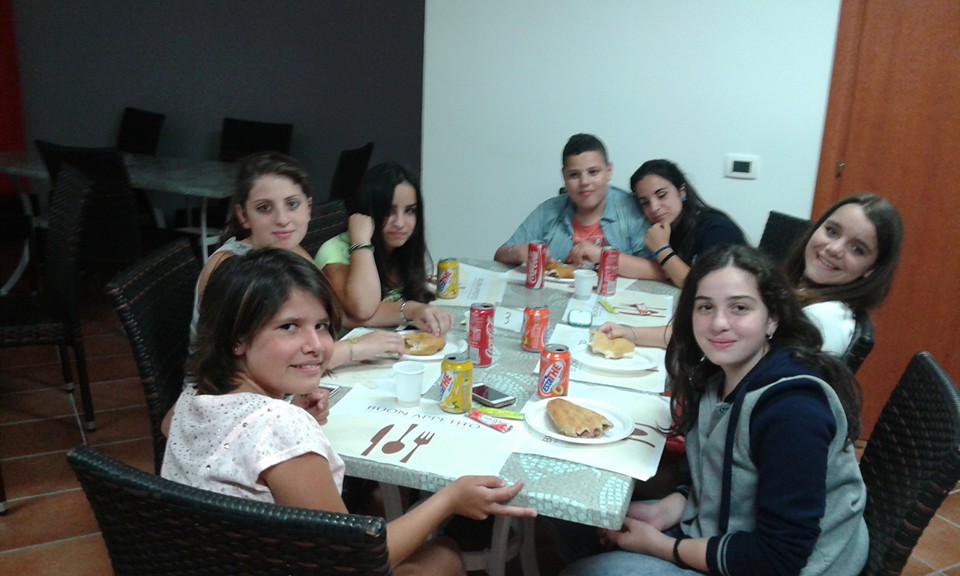 AND the Sunday dinner was extraordinary, including homemade cavatelli…
After the long walk back home, came this sunset view…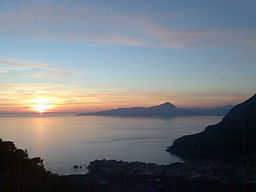 I dream of returning before too long… AND though I loved B&B Laino, if you're looking for a more luxurious accommodation, that's right in line with my female-centric Italy focus, check out La Locanda delle Donne Monache
Click Here for a story I wrote for Tastes of Italia Magazine about my Maratea experience, including recipes…I hope you get there to taste this delicious place!
Stay tuned for more Golden Days in Basilicata…