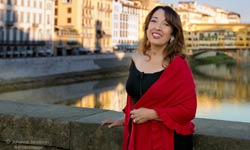 Ciao Amici!
I'm so grateful that 2016 included the release of the Third Edition of "100 Places in Italy Every Woman Should Go." Wonderful surprises have come into my life since this book first hit the stands in 2009. It's been thrilling to hear from travelers who enjoyed discovering new places and experiences through its pages, and that the book added so much fun to their Italian travels.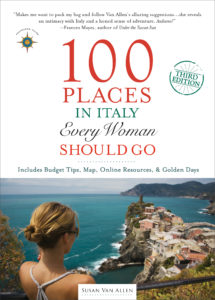 Here's a Sneak Preview/Excerpt…
It's the Perfect Gift for the Italophile in your life…
AVAILABLE at your Local Bookstore, AMAZON, and BARNES & NOBLE
PREFACE
I fell in love with Italy at a dining room table in Newark, New Jersey. It was Nana and Papa's dining room, my maternal grandparents—immigrants from Southern Italy. The walls were painted in a pale-rose stenciled pattern, the table spread with an ivory-colored lace cloth. On the mahogany sideboard sat a soccer-ball-sized jar of wild cherries marinating in syrup, next to a Capodimonte lamp, with porcelain figures of fancy ladies in flouncy dresses fanning themselves under the shade. A soprano on the hi-fi sang "Un Bel Di Vedremo"—"One Beautiful Day We'll See Each Other."
Nana, with her apron tied up under her marshmallow-baggie arms, lit the candles. My mother and aunts carried in platters heavy with mozzarella, roasted peppers, shiny black olives, steaming bowls of macaroni. I sat propped up on a telephone book, clinking my tumbler of half-red wine/half-water along with the grown-ups toasting, "Salute!" By the time the feasts were finished, the candles had burnt to their bottoms, dripping onto the lace cloth. Papa poured Strega, a golden liqueur, into curvy glasses, and sliced a dome-shaped, slathered-with-whipped-cream rum cake.
This was my first Italy: a big, delicious, loving heart.
Every August Papa would get on a ship to visit his sisters who still lived near Naples. He'd send back postcards of statues and churches. He'd return after Labor Day with beads from Venice, rosaries blessed by the Pope, rocks from Mount Vesuvius.
Italy became magical and mysterious, beckoning me—a billowy cartoon finger wafting out of a pot of bubbling tomato sauce.
When I got there for the first time in 1976, I arrived in Roma Termini with a pack on my back and a bursting anticipation. The trip was a sweltering August blur of standing awestruck in the Sistine Chapel, tasting my first gelato, getting my bottom pinched. Naturally there was romance: on the train I'd met a bel ragazzo named Luciano who'd sat across from me in the compartment. We fell madly in love for forty-eight hours and rendezvoused in the Forum: moonlight, a Chianti bottle with a straw-covered bottom, two nineteen-year-olds singing Beatles songs to each other.
Feeling transformed into a woman of the world, I headed to my Roman cousins where I was embraced with smothering-lovering and seated at their dining room table, coming full circle to my childhood Italy.
The spell was cast. Italy grabbed hold of my heart forever. Over these many years it's drawn me back, again and again.
Tonight as I'm sitting here in an apartment on Rome's Piazza Paradiso, way past bedtime, even for Italy, I'm realizing there's been absolutely no logic to my times here. The trips started off with visits to the major sights in the big cities, but then out went the plans, and instinct flung me to such spots as a classroom near Rome's Colosseum where I struggled to tackle the subjunctive, a quiet farm road in Puglia surrounded by old olive trees, dancing at the Excelsior in Florence with my husband one New Year's Eve.
I became the "girlfriend with the lists"—scribbling down places I'd loved visiting and passing them along to my traveling pals. If I was back in the States counting the days till my next trip, I lived in Italy vicariously—knowing that Babs was in Rome seeing all those provocative Bernini sculptures with my notes in hand, Sheila at a glove shop in Florence, Louise drinking wine at my favorite bacaro in Venice.
When the opportunity to write this book came along, so did elation, gratitude, and then a freezing panic. How could I choose 100 out of the infinite pleasures I'd experienced in Bell'Italia? So let's just get the most obvious fact out of the way: there are more places than any one book could hold. I've even left out some of the most obvious—such as the Sistine Chapel, Pisa, and Michelangelo's David—things well covered in other guidebooks.
In these pages, I'm sharing with you some places from my list of favorites, along with those my savvy Italian and American friends have raved to me about. I've put a spotlight on goddesses, the Madonna, female saints, beauties who've inspired masterpieces, women who've taken power. After all, isn't the fact that women have been worshipped here for thousands of years one of the reasons we love Italy so much? Though in modern times females haven't yet triumphed as far as business and political realms go, as Luigi Barzini in The Italians says: "Men run the country, but women run men." Here where la famiglia is the power source, women are at the core of it.
What about your male traveling partners? They're likely to enjoy a lot of these places, too, whether it's a museum, beach, or spots for adventure and learning. Okay, the guys probably won't be into buying lace in Rapallo, but they'll certainly enjoy Venus of the Beautiful Buttocks in Naples!
Italy seduces both sexes, with irresistibly feminine appeals. Shaped like a boot we'd love to strut around in, she transforms herself as she transforms travelers. She's the nurturing mama, the drop-dead-gorgeous vixen, the compassionate spirit. She's even the unreliable girlfriend who exasperates you with travel snafus, but you forgive her because she's so darn charming. She's constantly coaxing, "Come on, lighten up and enjoy my beauties and flavors."
Treat this book like a cookbook. What do you want a taste of? Botticelli's Birth of Venus? The best chocolate in Rome? A ceramic painting class in Deruta? A wine therapy spa treatment in the Veneto? Allow your mood to be your guide, savoring the experience Italian style, letting it unfold with an unhurried Old World pace.
To make a full meal of it, I've included suggestions for Golden Days—matching a place to a nearby restaurant, just like I do when I send out lists to girlfriends. These are only suggestions, because each of us has our own deeply personal experience of encountering Italy.
But as unique as each encounter is, I'm amazed at always hearing, even from travelers without a drop of Italian blood in them, the same words: "It felt like home." Home, in the sweeping sense of a place that brings peace and comfort, a place that stirs the soul.
For me, Italy brings back that childhood dining room table feeling. It sneaks up on me now, looking out the window of this apartment in late-night Rome. There's a light shining on a little Madonna altar across the way, her robe the same rose as those dining room walls. Out of the shadows, from a nearby restaurant, comes a dark-haired signorina, walking as if she absolutely knows she's a descendant of Venus, with her Adonis—a bel ragazzo in a leather jacket—linked to her side. They stop for a smooch under the Madonna, pressing up against each other as if this was their last night on earth.
Italy, once again, playing an endless beautiful song.
My wish for you is to enjoy her many places of pleasure, wherever your desires lead you to go.
—Susan Van Allen
Rome