FOR WOMEN ONLY
SATURDAY, OCTOBER 13 – SUNDAY, OCTOBER 21, 2018
Led by author Susan Van Allen
Join Susan Van Allen, author of 100 Places in Italy Every Woman Should Go, for an inspiring adventure in southern Italy, where the elegant soul of Bell'Italia bursts forth, with the sparkling Mediterranean Sea as a backdrop. Discover marvels of Capri, vibrant Naples, fascinating ancient ruins of Pompeii, blissful thermal springs of Ischia, and the magical Amalfi coast towns of Positano, Ravello, and Amalfi. Shop for artisan treasures, toast with robust local wine, and enjoy delicious, world-famous cuisine.
This is a Gift of La Dolce Vita=the Sweet Life, custom-designed for a small group experience (maximum 14), and led by Susan so that women can fully experience Italy's rejuvenating pleasures.
Brief Itinerary
Day 1: Depart USA
Day 2: Welcome to Sorrento, with Cocktails and Dinner
Day 3: Fun Cooking Class in a Sorrento Family Villa
Day 4: Bliss out in a Thermal Park Spa and Beach on the island of Ischia
Day 5: Discover the treasures of Bella Napoli, pizza included
Day 6: Explore fascinating ruins of Pompeii / Positano at Sunset
Day 7: Delightful day in enchanting Capri
Day 8: Amalfi Coast Drive: Spectacular Views from Ravello's Villa Cimbrone Gardens / Amazing Amalfi / Farewell Dinner
Day 9: Transfer to Naples for your Flight Home
What's Included
Entertaining hosting by author Susan Van Allen, focusing on Italy's celebration of all things female
7 nights at First-Class Hotel Imperial Tramontano in Sorrento in garden view rooms
Transportation by private minibus, including roundtrip transfers
to/from Naples airport or train station
Daily buffet breakfast at the hotel
2 multi-course dinners, with wine
1 cooking class followed by lunch
1 pizza lunch in Naples
Guided tours of Capri, Naples Historic Center, Archaeological Museum, Santa Chiara Cloisters, and Ancient Ruins of Pompeii
Private boat excursion to Capri's Blue Grotto
Thermal park entrance fees in Ischia, with access to 22 warm pools, sauna, private beach, and restaurants
Entrance fees to museums and Pompeii
Sunset visit to Positano
Visit to Ravello's Villa Cimbrone Gardens
Visit to Amalfi
Gratuities for all group activities, to guides and service providers
Travel Journal
Travel Journal Writing workshops (optional)
Charitable donation of $25.00 to the Pompeii Sustainable Preservation Project to support the excavation work of this historic treasure
Not Included
Airfare
Meals not specified in itinerary
Spa treatments, such as massages or facials
Everything not mentioned under "What's Included"
The week is expertly designed with a balance of planned group
and free-time independent experiences.
What Golden Week Guests Are Saying…
I loved our Golden Week! Susan goes above and beyond to make sure everyone is having a good time and does her best to accommodate every need however necessary. The group size is ideal and having Fiorella as our guide was excellent. I hope to do another tour with Susan and would not hesitate to recommend these tours to friends. — Julie, Canada
After spending several days with Susan I came to realize her love for Italy is as deep as the Mediterranean, she is as warm as the sun that sets in Capri…Gale, Vermont
CLICK HERE for more TESTIMONIALS
PRICE: $3990/per person, double occupancy – $4790 single occupancy
(Deposit Payment: $350, Final Payment Due: 8/15/2018)
Small Group Tour: 14 guests Maximum – 2 spots left!
(2 single rooms left)
In Collaboration with Perillo Tours, America's Leading Tour Operator to Italy for over 70 years.
FOR MORE INFO AND TO SIGN UP for this adventure,
contact Christine at Perillo Tours today at: support@italyvacations.com or 800-482-5925.
Full Itinerary

Golden Day 1: Depart USA: ANDIAMO!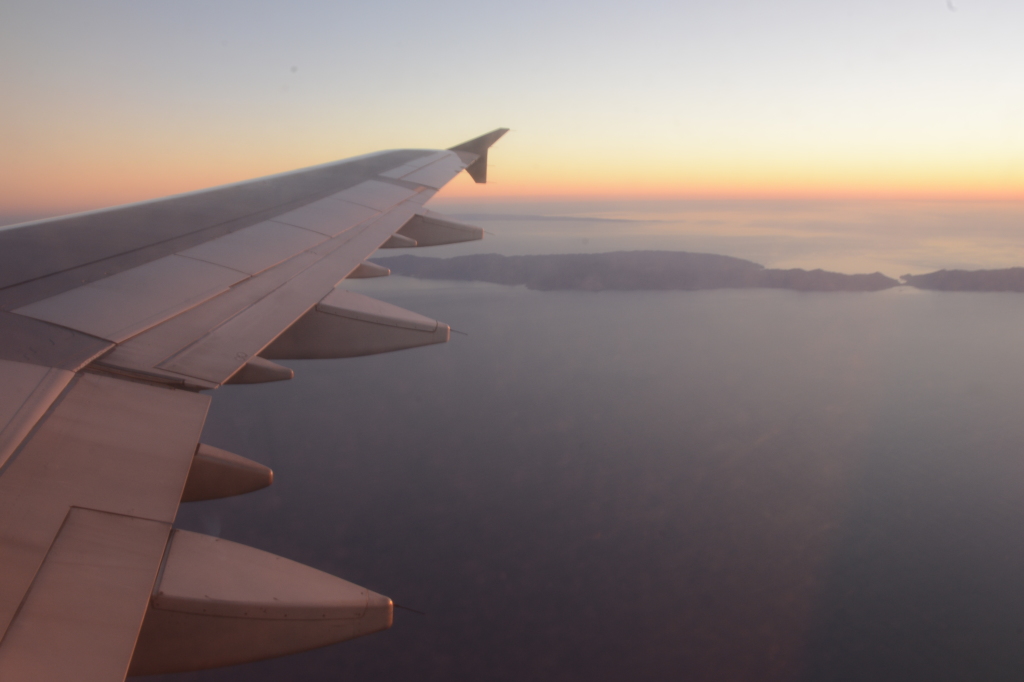 Today you will transfer on your own to the airport, to catch the overnight flight to Italy, full of joyful anticipation…
Golden Day 2: Welcome to Your Golden Week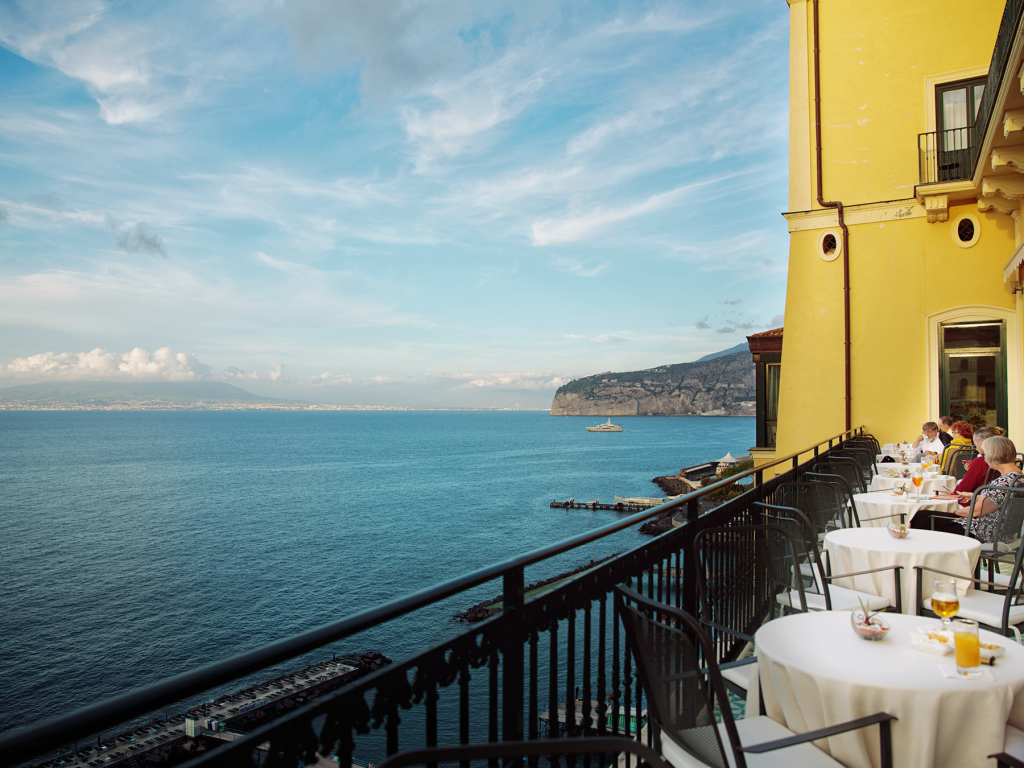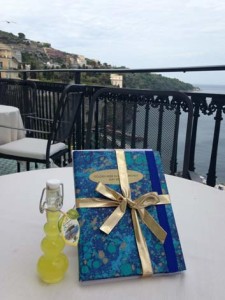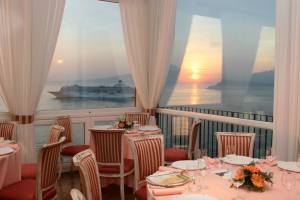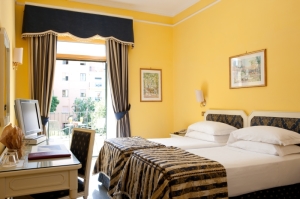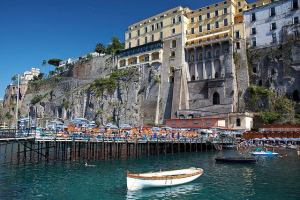 Benvenuta! You'll be met by our driver at the Naples airport or train station, then transported along a dreamy route to your home for the week: Hotel Imperial Tramontano in Sorrento. The view of the Bay of Naples from here is breathtaking, and you'll have time to ooh-and-ahh, relax, and perhaps even explore the vibrant historic center, that's just steps away.
In the evening, we'll gather for an aperitivo to toast the week ahead. I'll give you tips about keeping a travel journal, so you can create a treasured souvenir of your week through journaling. We'll dine at the hotel's restaurant, enjoying the view of the stars sparkling over the sea and the critically acclaimed cuisine of Chef Alfonso Iaccarino, famous for his menus that celebrate the season's freshest ingredients.
Meals Included: D
Golden Day 3: Taste Campania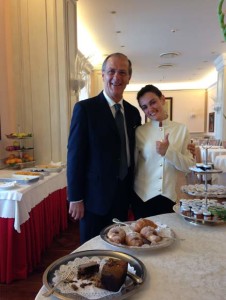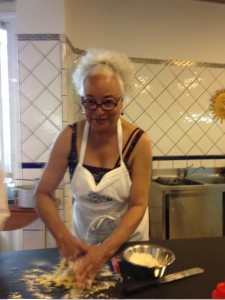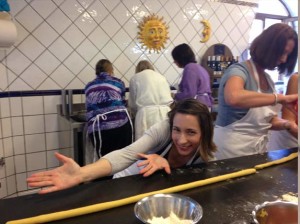 Wake up and smell the caffe. A delicious, abundant breakfast awaits you in the hotel dining room. Get used to enjoying this elegant start to all your Sorrento days.
Then we're off to a nearby family villa, where a local signora will lead us in a cooking class–a chance to immerse ourselves in the region of Campania's extraordinary flavors, including classic Gnocchi alla Sorrentina, AND a wine tasting. Lunch, enjoying the fruits of our labors, will follow, along with time to enjoy the gardens of this lovely property.
We'll be back at the hotel by late afternoon, so you may enjoy a dip in the pool or a leisurely stroll, before dinner on your own, with my recommendations.
Choices nearby range from cozy pizzerias to chic upscale restaurants.
Meals Included: B, L
Golden Day 4: Spa Day on the Island of Ischia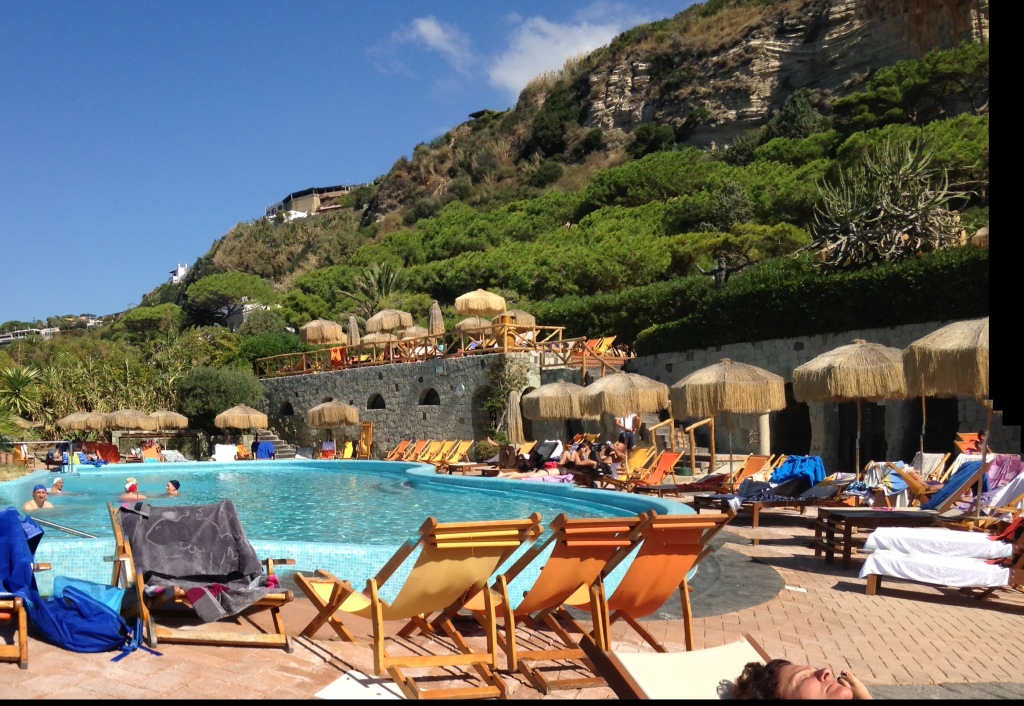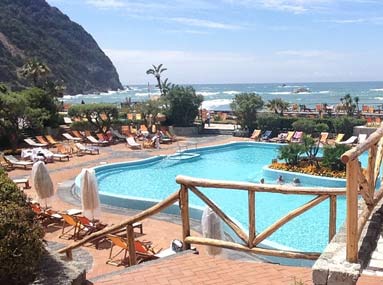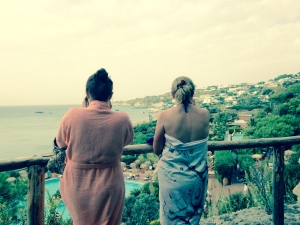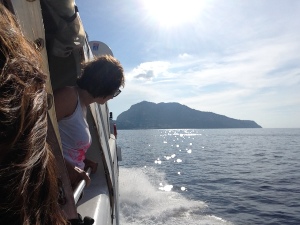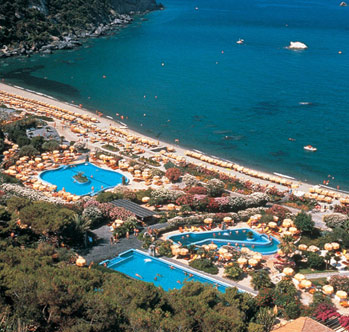 Spa in Latin stands for, Salas Per Aqum=Health through Water. We'll do as the Greeks and Romans did: immerse ourselves in the curative waters of Ischia that have been rejuvenating visitors since ancient times. A ferry ride takes us to the lush, volcanic island, that's famed for its thermal springs. We'll head to Poseidon Park, where we'll soak in warm pools, steam in the Roman sauna, relax under umbrellas at the private beach. There will be time for optional spa treatments, or you may wish to simply bliss out amidst fragrant gardens, staring out into the mesmerizing Mediterranean Sea.
Back in Sorrento, there's an optional journal writing workshop in the early evening. Then those who would like to have a Dutch Treat group dinner, may follow me on a short walk to Sorrento's Marina Grande, to enjoy the folksy scene and a meal of fresh caught seafood.
Meals Included: B
Golden Day 5: Full Day in Bella Napoli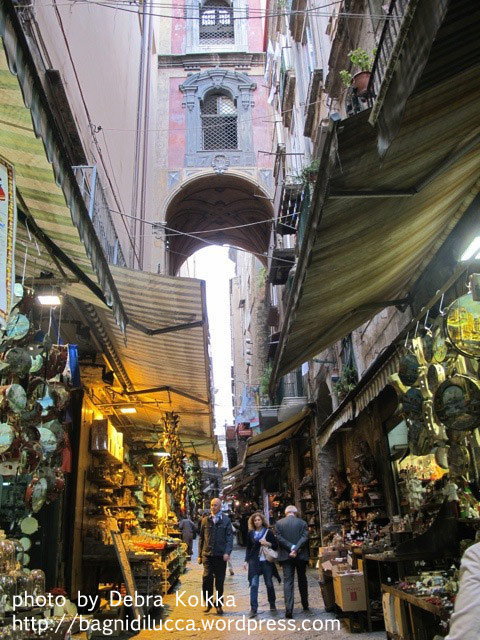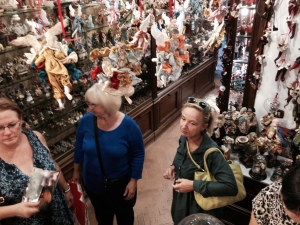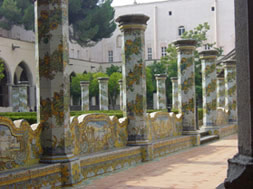 >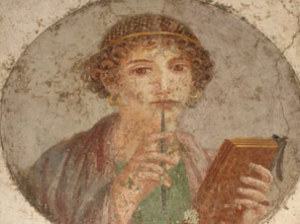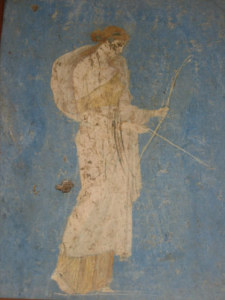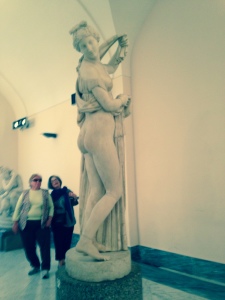 Our day in Bella Napoli is an inspiring mix of rich history, artisan shopping, and wonderful food. We'll ferry over there from Sorrento, meet our entertaining local guide, and have a visit to the Archaeological Museum, to see how women have been glorified in art since ancient days–from the sculptures of Goddess Venus to stunning mosaics. Next, we'll have lunch at a traditional pizzeria, indulging in The Best Pizza in the World! In Spaccanapoli,  the city's soulful, evocative historic center, we'll have time to explore here, shop and enjoy the artisans on Via Gregorio Armeno (famous for their Nativity figures), taste sfogliatelle=delicious Neapolitan pastry, and visit the Cloisters of Santa Chiara, a wonderland from Naples' Baroque heyday.
We'll return to Sorrento by early evening, giving you time to enjoy an aperitivo or shopping in the historic center, followed by a relaxing dinner on your own.
Meals Included: B, L
Golden Day 6: Guided Tour of Pompeii / Positano at Sunset
We'll begin the day with one of the world's most fascinating places: the ruins of ancient Pompeii. On our entertaining guided walk, we'll focus on the treasures of its feminine history–including the House of Venus, the Temple of Isis, (Egyptian Mother Goddess and Enchantress), and the Building of the Priestess Eumachia, (Patron of Launderers).
You'll have the afternoon to relax and shop in Sorrento. In the early evening, we'll have a private bus transfer for a 45-minute ride to Positano, a jewel of the Amalfi Coast.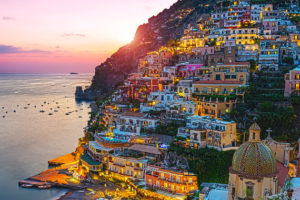 This former fishing village, with candy-colored stone homes set into the cliffs, is especially tantalizing at sunset. You'll have time to wander its winding pathways, shop for ceramics, sandals, and Positano fashions. Dinner is on your own here, with my recommendations.
Meals Included: B
Golden Day 7: Discover Capri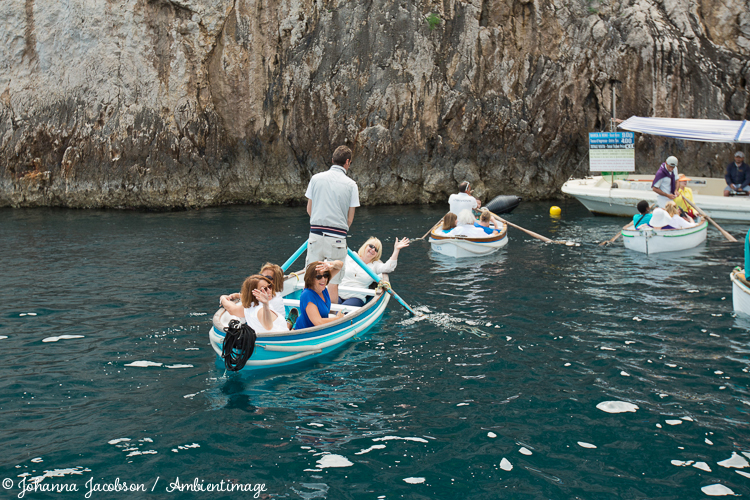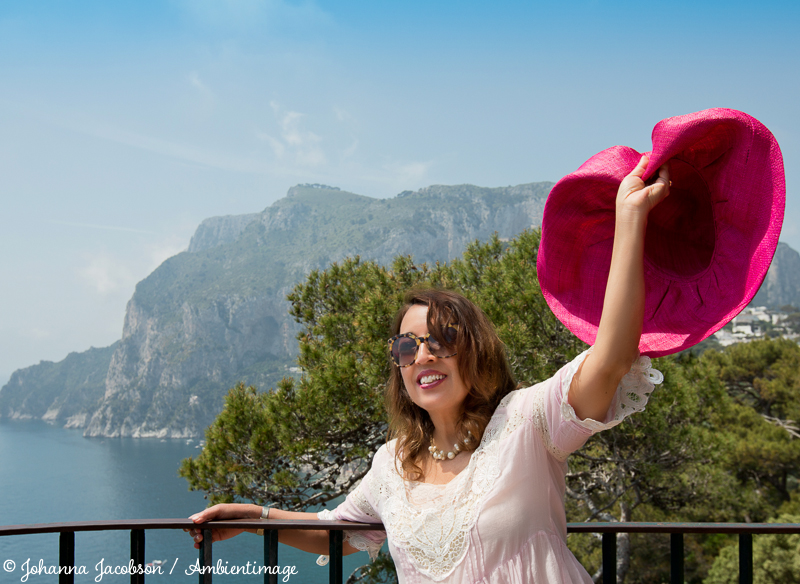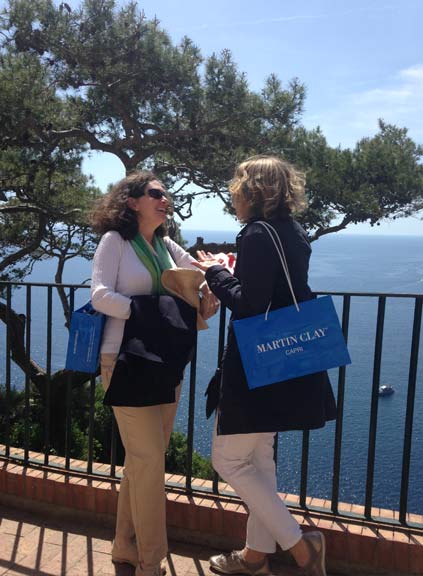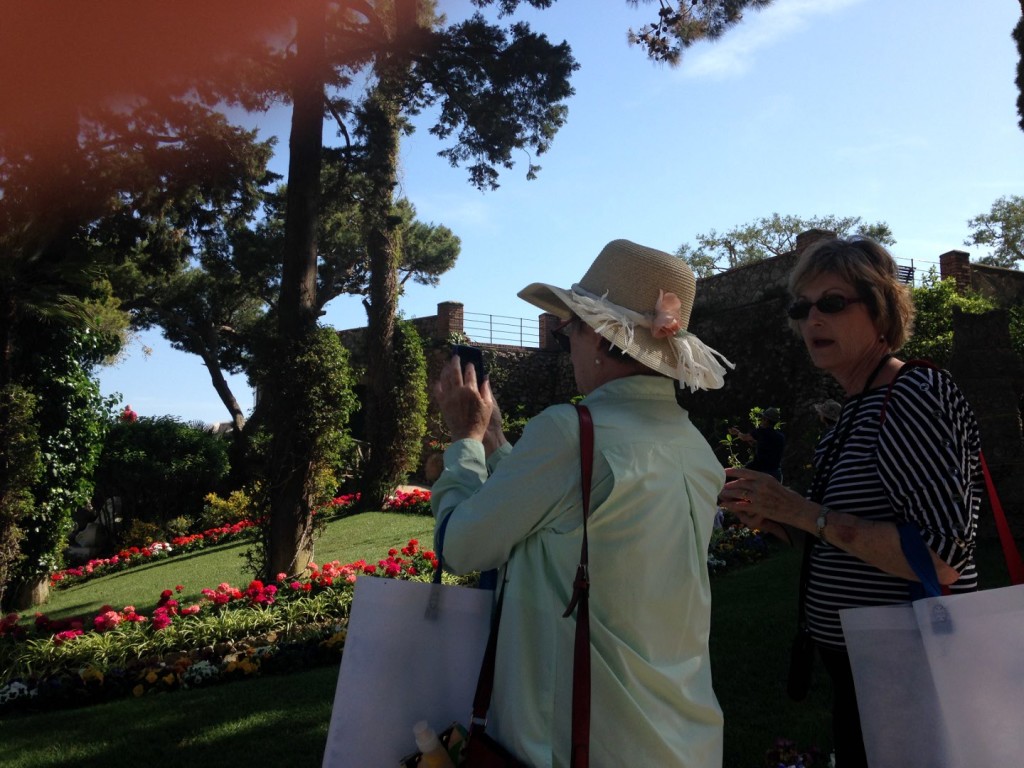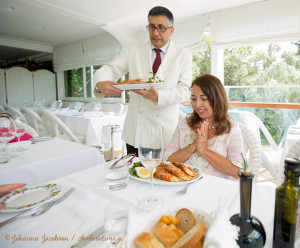 This day is dedicated to one of the most magical places on earth: the island of Capri. We'll take a 20-minute ferry ride from Sorrento to get there, then a private boat excursion to marvel over the Blue Grotto. Up in the Capri town center, we'll have lunch on our own…perhaps a Caprese salad? There will be free time to experience Capri's luxurious shopping scene and explore the quieter paths on the outskirts of town, where The Gardens of Augustus and amazing views await.
Enchanted, we'll ferry back to Sorrento, and have dinner on our own.
(Please note: In case of bad weather, the Blue Grotto may not be accessible)
Meals Included: B
Golden Day 8: Awesome Amalfi Coast: Ravello / Amalfi – Farewell Dinner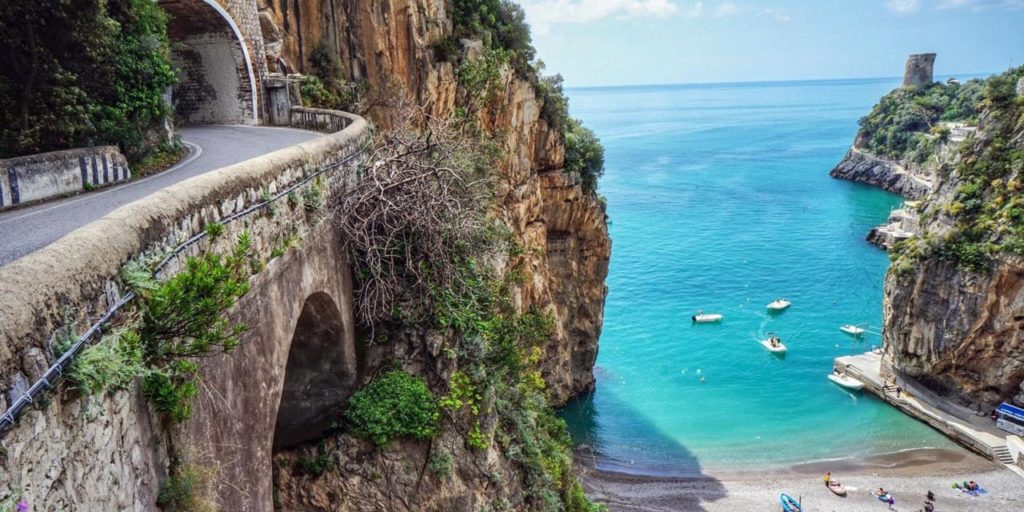 Our morning will take us along the world-famous Amalfi Coast Drive to the town of
Ravello,
set high on the cliffs, with stupendous views, which inspired such greats as Virginia Wolff, DH Lawrence, and Wagner.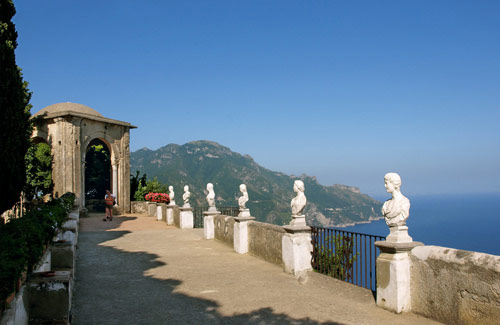 We'll have time to wander in the Villa Cimbrone gardens, with its legendary statue-flanked belvedere, opening to the best panorama on the coast.
Then we're off down a windy road to Amalfi, to immerse ourselves in the Medieval atmosphere of this former Maritime Republic, with colorful pathways and its stunning Arab-Sicilian marble cathedral.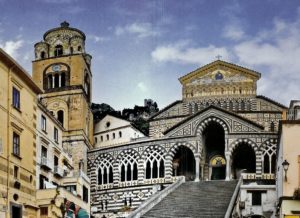 There will be time to explore Amalfi's artisan boutiques, including traditional shops that sell handmade paper and ceramics, and have a delicious lunch on your own.
We'll return to Sorrento by afternoon, giving you time for your final shopping and packing.
In the evening, we'll gather for our Farewell Dinner at a traditional restaurant in the historic center, to celebrate our Golden Week, refreshed and inspired.
Meals Included: B, D
Golden Day 9: Arrivederci!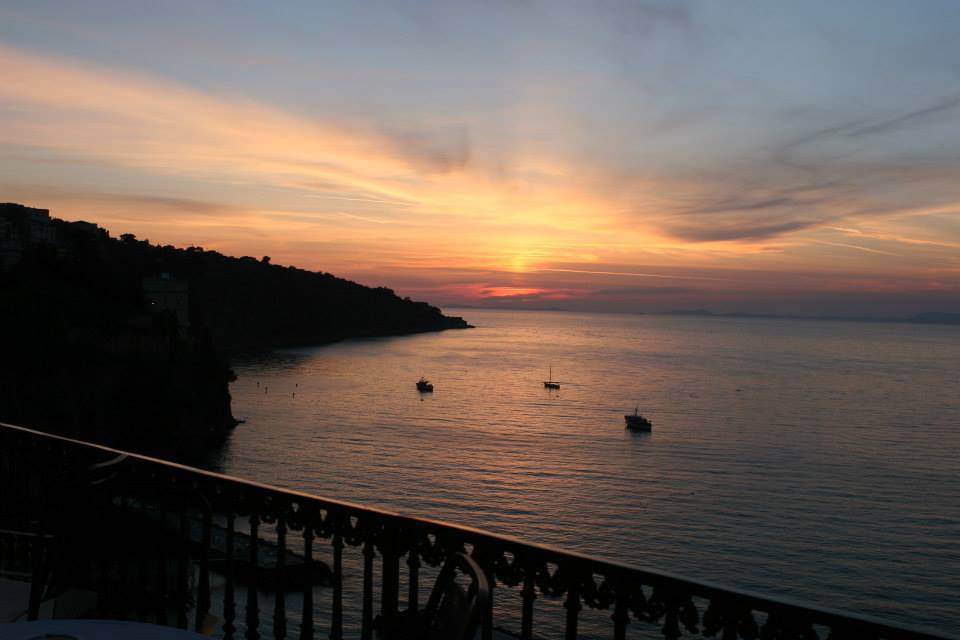 Our driver will transport you to the airport or train station, where you'll depart with Golden Memories of our week together…
Meals Included: B
*Itinerary subject to change. If because of weather or unforeseen circumstances changes need to be made, replacement events will be equally as awesome as above.
*Activity Level: Bring comfortable walking shoes! The historic centers of Naples and Capri are pedestrian only, and our time there will include some walking together to discover their treasures and time for you to go at your own pace–which may range from settling into a caffe to people watch or exploring further if you wish. Positano, nicknamed "The VeriticalTown", because of all its steps, will be the most challenging workout. Touring Pompeii involves walking along uneven, rocky pathways. There are also ferry rides to Naples, Capri, and Ischia, as well  as a smaller boat excursion to Capri's Blue Grotto, which require precautions to be taken for those with motion sickness.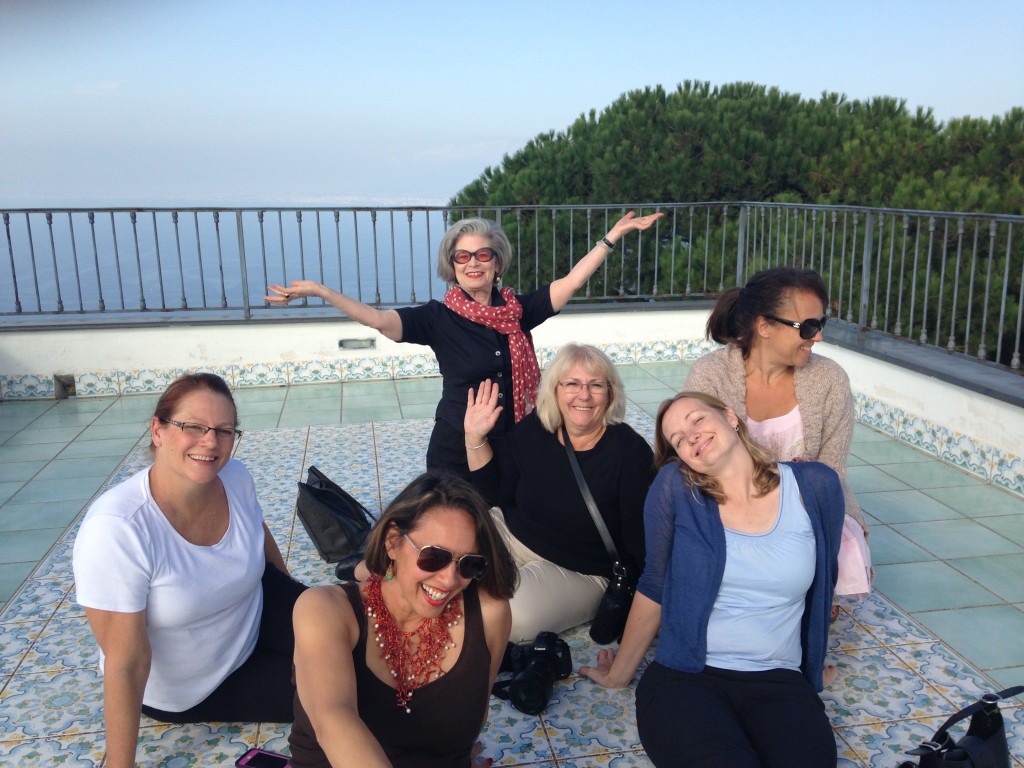 "This trip was clearly designed by an artist–everything flowed along beautifully, a delicious transformational experience of La Dolce Vita!" — Helen, California
CLICK HERE for Testimonials
In Collaboration with Perillo Tours, America's Leading Tour Operator to Italy for 70 years.
FOR MORE INFORMATION AND TO SIGN UP for this adventure, contact Christine at Perillo Tours TODAY:
support@italyvacations.com or 800-482-5925
Christine can also arrange for early arrivals or later departures, with discounted rates at the Hotel Imperial Tramontano in Sorrento.