PREMIUM Golden Week: For Women Only –
Italian Riviera and Florence
September 22–October 1, 2017
SOLD OUT!
STAY TUNED FOR 2018 GOLDEN WEEKS…
A NEW 8-night adventure, in 2 extraordinary locations, custom-designed and hosted by author Susan Van Allen, for women to enjoy Italian pleasures to the max!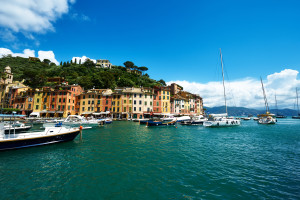 What's Included
Entertaining hosting and guiding by author Susan Van Allen, focusing on Italy's celebration of all things female
8 nights at First-Class Hotels,
4 nights Hotel Continental in Santa Margherita Ligure
4 nights Plaza Hotel Lucchesi in Florence
Transportation by private minibus, including arrival transfers
from Genoa airport or train station and departure transfers to Florence airport or train station
Daily buffet breakfast at the hotel
4 multi-course dinners, with wine
1 cooking class in Portofino, followed by lunch
1 ceramics painting class
Guided tours of the Cinque Terre, San Fruttuoso Abbey, Florence Historic Center, Santa Maria Novella Basilica and Cloisters, and Uffizi Gallery, by charming local experts, with whisper headsets included
Entrance fees to museum and monuments
Gratuities for group activities: guides, drivers, and servers at group meals
Travel journal and optional writing workshops
$25 Donation to Friends of Florence, for art restoration projects
What's Not Included
Airfare
Meals not specified in the itinerary
Optional Travel Insurance
Everything not mentioned under "What's Included"
Rates: $4890/per person, double occupancy
$5590/per person, single occupancy
Small Group Tour: 14 guests maximum
To reserve your space, or for more information, contact Irene today at: Irene@perillotours.com or 855-784-7687.
The week is expertly designed with a balance of planned group and free-time independent experiences
CLICK HERE for Golden Week Testimonials
Brief Itinerary

Day 1: Friday – Depart USA to Genoa, Italy
Day 2: Saturday – Welcome to Your Golden Week
Day 3: Sunday – Taste the Italian Riviera, in Portofino
Day 4: Monday – Discover Extraordinary Cinque Terre
Day 5: Tuesday – Experience Magical San Fruttuoso / Sunset in Camogli
Day 6: Wednesday – Welcome to Florence, via Lucca
Day 7: Thursday – Discover Florence and Its Treasures
Day 8: Friday – Be a Florentine Artisan / Marvel at Masterpieces
Day 9: Saturday – La Dolce Vita Day
Day 10:Sunday – Arrivederci Florence
In Collaboration with

Perillo Tours

, America's Leading Tour Operator to Italy for 70 years.
To reserve your space, or for more information, contact Irene today at: Irene@perillotours.com or 855-784-7687
Detailed Itinerary

Golden Day 1: Friday, September 22 – Departure from USA 
You'll be packed (with my tips), and full of joyful anticipation…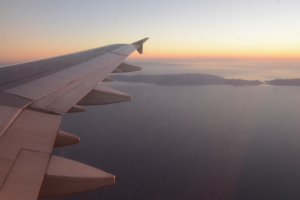 Golden Day 2: Saturday, September 23 – Welcome to Your Golden Week
Benvenuta! You'll be met by our private driver at the Genoa airport or train station and transported to our paradise-of-a-base: the Hotel Continentale in Santa Margherita Ligure.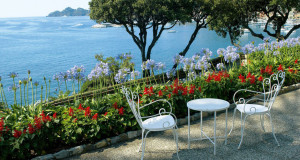 The views from your room's balcony will take your breath away: sparkling harbor, elegant palm trees, and wonderful town.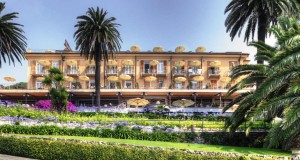 You'll have time to relax, and perhaps enjoy the hotel's private beach, pool, or spa. In the evening we'll gather on the hotel terrace to toast the Golden Week ahead.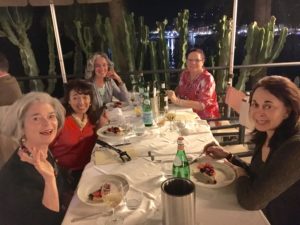 Susan will give you tips for your travel journal, so you can create a treasured souvenir of the adventure.  We'll dine in the hotel's restaurant, enjoying the first of many memorable meals, featuring the traditional flavors of Liguria with a backdrop of the sparkling, starlit sea.
Meals Included: D
Golden Day 3: Sunday, September 24 – Taste the Italian Riviera, in Portofino…
Buongiorno! Wake up and smell the caffe. Enjoy an abundant buffet breakfast in the hotel's dining room with mesmerizing sea views…get used to such extraordinary mornings for the rest of your week.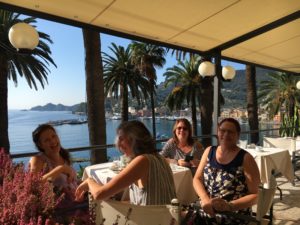 We'll begin the day with a stroll down the hill for an orientation to Santa Margherita Ligure. The town's historic center is a beautiful mix of colorfully painted neoclassical buildings, a stunning Baroque church, and delightful shops, caffes, and restaurants.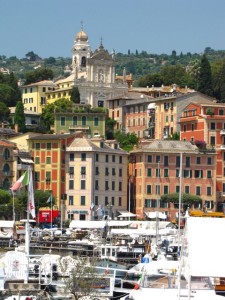 Then we'll hop a ferry boat for a short ride to Portofino—a tiny, gorgeous seaside village that's a choice yacht-stop for jet setters.
We'll be welcomed here into a local kitchen for a fun, hands-on cooking class, to immerse ourselves in the Italian Riviera's extraordinary flavors, including making Genovese pesto.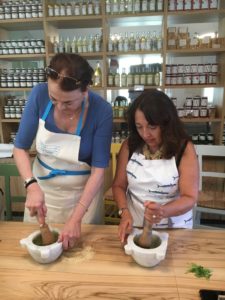 Lunch will follow, enjoying the fruits of our labors. Then we'll have time to relax in this jewel of a spot, perhaps wandering up to Castello Brown, (setting for the film Enchanted April),  and shopping in Portofino's legendary designer boutiques.
We'll ferry back to Santa Margherita where the evening is yours to dine on your own, with my recommendations. Choices range from lively pizzerias to chic upscale restaurants.
Meals included: B, L
Golden Day 4: Monday, September 25 – Full day in Extraordinary Cinque Terre
The extraordinary stretch of coastline called the Cinque Terre (meaning Five Lands), is comprised of five colorful fishing villages that cling to the rugged coastline, surrounded by vineyards and terraced gardens.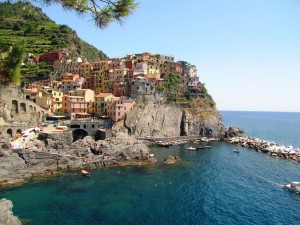 With our guide Simona, we'll have an insider's experience of these unique villages, traveling by train and/or ferries to see such wonders as the Riomaggiore castle, Gothic Church of Santa Margherita in Vernazza, and the Capuchin Monastery in Monterosso, stopping along the way to take in breathtaking views. There will be free time to wander the enchanting pathways of the villages with our guidance, for shopping, a caffe break, and lunch on your own.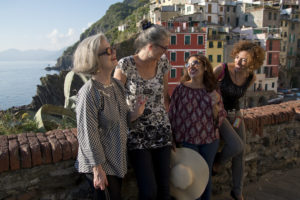 After this exhilirating day, we'll transfer back to Santa Margherita Ligure, where you can enjoy the sunset and a relaxing dinner at the hotel or harbor.
Meals included: B
Golden Day 5: Tuesday, September 26 – Experience Magical San Fruttuoso / Sunset in Camogli
This morning is free for you to experience Santa Margherita Ligure at your leisure. You may opt for a swim at the hotel's private beach and lunch on the terrace, a spa treatment, journal writing workshop, shopping in town, or visiting the elegantly decorated Villa Durazzo and its surrounding gardens.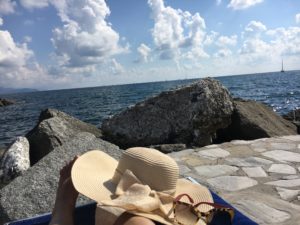 In the afternoon, we'll take a short ferry ride to one of the most magical spots on the Ligurian coastline: San Fruttuoso. This secluded bay can only be reached by boat or hiking. The setting is dreamlike: sparkling turquoise waters and a stunning 10th century Abbey which we'll tour with our guide Simona.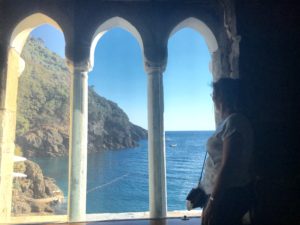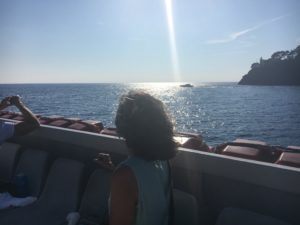 We'll continue by boat to the village of Camogli, that got its name from case delle mogli=house of wives", as it was a fishing village named for the women who managed things here while their husbands were away at sea. The soul of Camogli from days gone by remains—the harbor is full of fishing boats, there are little shops where Liguria's best focaccia is fresh-baked, and artisan workshops. Camogli is ideal to visit at sunset, so we'll settle in at a traditional seaside restaurant, to enjoy dinner with a marvelous view.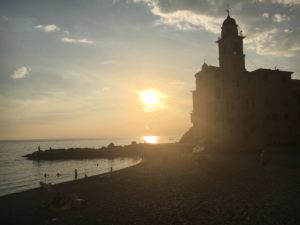 After dinner, we'll be transported by private driver back to Santa Margherita Ligure.
*In case of bad sea/weather, the visit to San Fruttuoso bay will be replaced with a visit to the villas and gardens of Santa Margherita Ligure village.
Meals included: B, D
Golden Day 6: Wednesday, September 27 – Welcome to Florence, via Lucca
In the morning, we'll depart Santa Margherita Ligure and head through the stunning countryside to Florence. Along the way, we'll stop to visit one of Tuscany's most beloved towns: Lucca.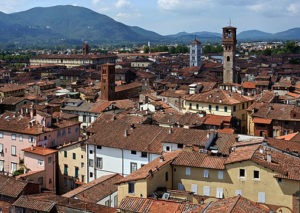 There we'll be guided through its pedestrian-only historic center to admire splendid Gothic and Romanesque churches and have a relaxing caffe break in a pretty piazza. There will be time for shopping Lucca's artisan boutiques and lunch on your own.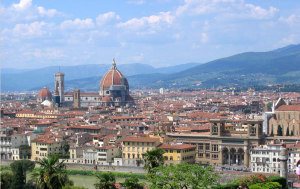 We'll arrive in Florence in the late afternoon and check into the Plaza Hotel Lucchesi–a luxurious, historical property from 1860, set right on the River Arno. You'll have time to get settled and explore as you wish, before we take an evening walk to a nearby cozy trattoria for a dinner of Florentine specialties. 
Meals included: B, D
Golden Day 7: Thursday, September 28 – Discover Florence and Its Treasures
After a lovely breakfast, we'll go deeper into exploring the range of treasures that abound in Florence. In the morning,  we'll follow our entertaining local guide on a walk through the historic center, stopping at the Piazza Signoria and Piazza Duomo to admire the amazing architecture, enjoying a caffe in the Piazza Repubblica, and then we'll land at the first Florentine Basilica, that glorifies its feminine  inspiration: Santa Maria Novella.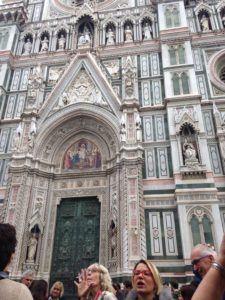 Highlights  inside include gorgeous Renaissance fresco cycles in the Tornabuoni and Spanish Chapels. We'll end our tour at the Santa Maria Novella Pharmacy, a wonderland of beauty products, that was founded by the basilica's Dominican monks over 400 years ago.
There will be free time for lunch and shopping on your own, before we meet in the late afternoon for a visit to the Accademia Gallery to stand awestruck before one of the world's greatest sculptures: Michelangelo's David.
The evening is on your own, to enjoy an optional journal writing workshop, perhaps a sunset aperitivo on the hotel's divine rooftop, and dinner with my recommendations.
Meals included: B
Golden Day 8: Friday, September 29– Be a Florentine Artisan / Marvel at Masterpieces
Ceramic making has been a tradition in Florence since Renaissance days. We'll begin the day with a hands-on experience of  this craft at Sbigoli Terrecotte, a family run shop that's been turning out masterpieces since  1857. An artisan will lead us in learning the basics of ceramic painting, and each of us will create a piece to take home for a precious souvenir.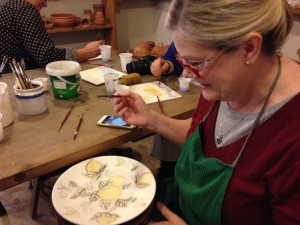 There will be a break for shopping, sight-seeing, and lunch at your leisure.
In the afternoon we'll meet at one of the world's most famous museums: the Uffizi Gallery. We'll be guided through splendid rooms, focusing on masterpieces that glorify females—by such greats as Giotto, Botticelli, and da Vinci, and take a leisurely break at the terrace caffe, with its magnificent view.
Tonight, a fortifying Florentine meal may fit the bill. Those who wish to join me for a Dutch treat dinner may come along to one of my favorite trattorias, where the specialty is bistecca=beefsteak, exquisitely done in lively surroundings.
Meals included: B
Golden Day 9: Saturday, September 30 – La Dolce Vita Day
This is your day to immerse yourself in La Dolce Vita, and experience Florence according to your desires, with Susan's guidance to assist you. There are still more museums and churches with masterpieces to enjoy, shopping opportunities ranging from high fashion to outdoor markets, or you may want to take a ride out to the Chianti countryside (for additional cost).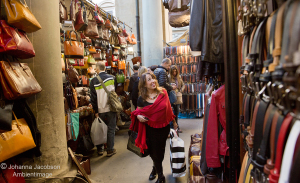 In the evening, we'll gather for our final celebration of this inspiring week: a Farewell Dinner at a restaurant set next to the starlit Arno River.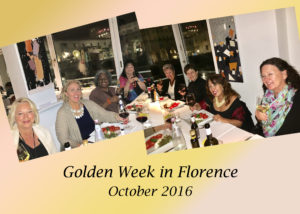 Meals included: B, D
Golden Day 10: Sunday, October 1 – Arrivederci!
Our driver will transport you to the airport or train station, where you'll depart with Golden Memories of our time together…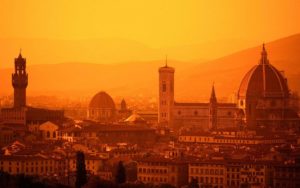 Meals Included: B
"My thanks to Susan Van Allen for making her book come to life!!! I thoroughly enjoyed every moment of this Golden Week. Susan's heartfelt desire for everyone to enjoy their time was evident each and every day. "– Jolene B, Florence, 2015
CLICK HERE for More Testimonials
*Itinerary subject to change. If because of weather or unforeseen circumstances changes need to be made, replacement events will be equally as awesome as above.
*Activity Level: Bring comfortable walking shoes! Though we explore at a relaxed pace, with breaks to savor the atmosphere, please consider the following to be sure this trip is right for you:
–Our hotel in Santa Margherita Ligure sits on a promontory, about a 5-minute leisurely curvy walk to the Santa Margherita Ligure historic center and harbor.
–Most of our excursions are in pedestrian-only towns,  along cobblestoned streets, there are marble-floored museum visits, and the Cinque Terre day includes walking up and down stone steps.
–In Florence, the itinerary does include mini-van transportation for walks longer than 20 minutes from our hotel. You also have the option to take a taxi (at your own expense) for the shorter city walks, which we can arrange for you.
–For those with motion sickness, precautions should be taken for the longer drives and ferry rides in the Italian Riviera.
For more information, and to Sign Up for this Adventure, Contact Irene at Perillo Tours:
Irene@perillotours.com, 855-784-7687 (10am to 6pm, Eastern Standard Time)
Would you like to arrive early or extend your Golden Week? Irene can arrange for discounted hotel rates. Just ask!